One product, lots of features
Here's what Rumo comes help you with: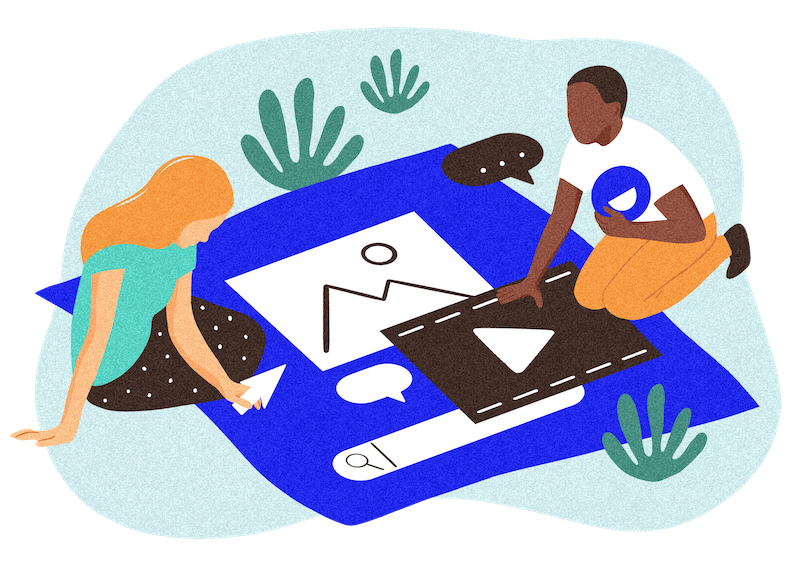 PERSONALIZED RECOMMENDATION
Understand what moves
your users
Recommend content based on users' tastes.
Provide tailor made recommendations thanks to our user semantic profile.

Easily visualize your users' tastes and interests to adjust recommendations.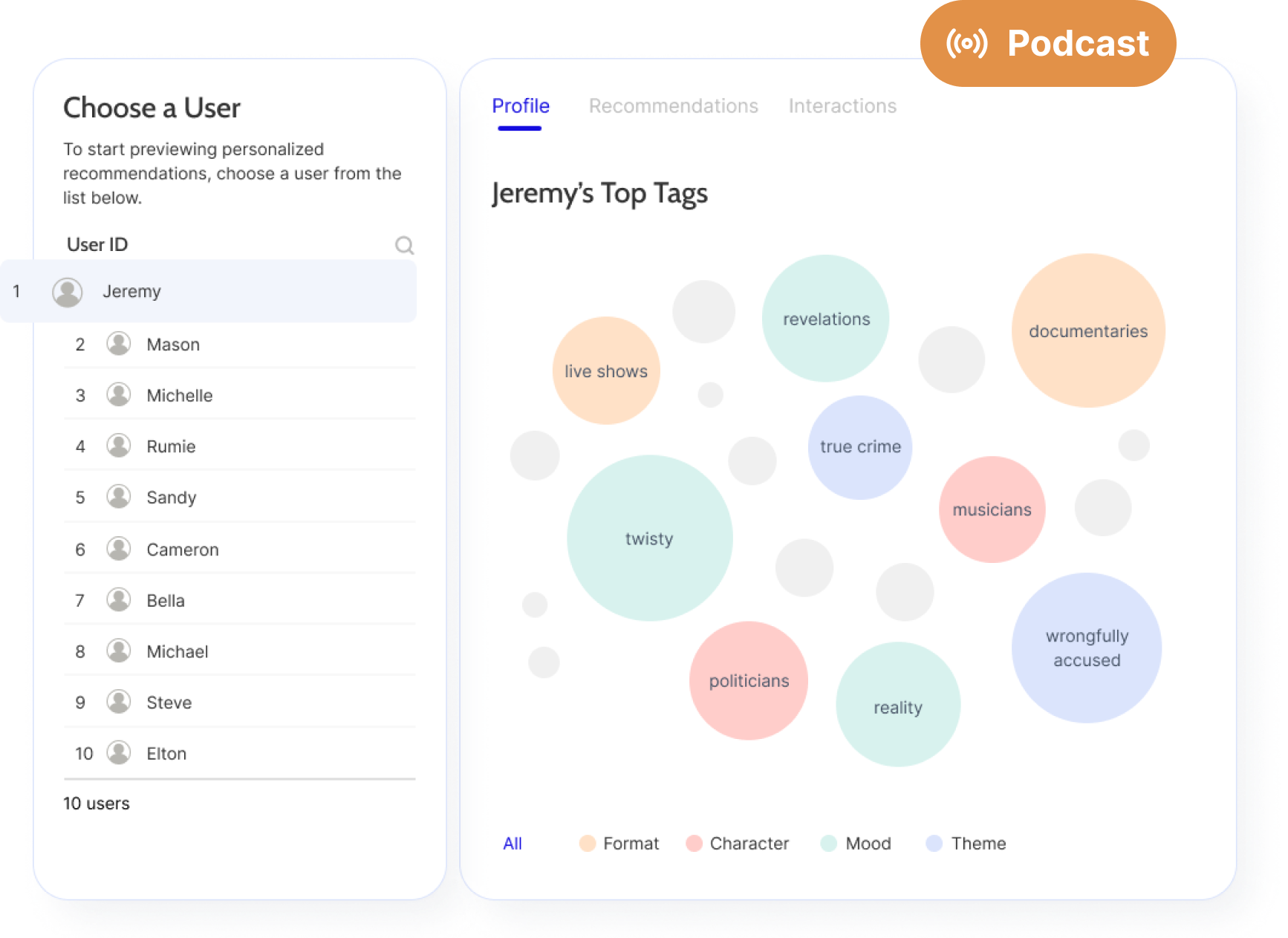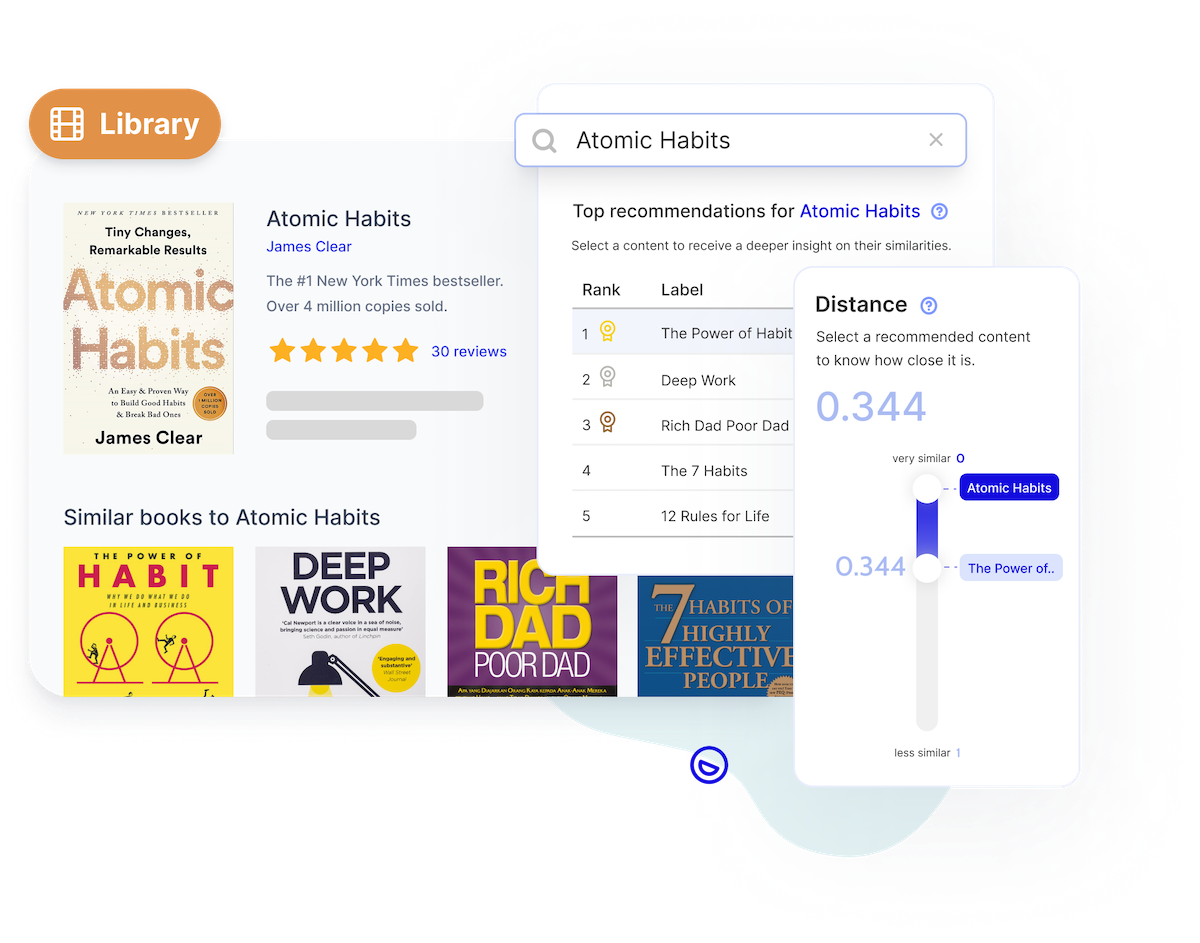 SIMILAR CONTENT RECOMMENDATION
Get instant recommendations and avoid cold start issues
Make links between content items based on metadata.
Access a list of recommendations that would be displayed for a given content item.
CATALOGUE
Easily visualize and navigate your catalogue
Get access to a detailed overview of each content piece with all information and adjustable metrics.
See in the blink of an eye which data is being used and customize tags for content pieces.
Adjust weights to customize the recommendation process to your liking.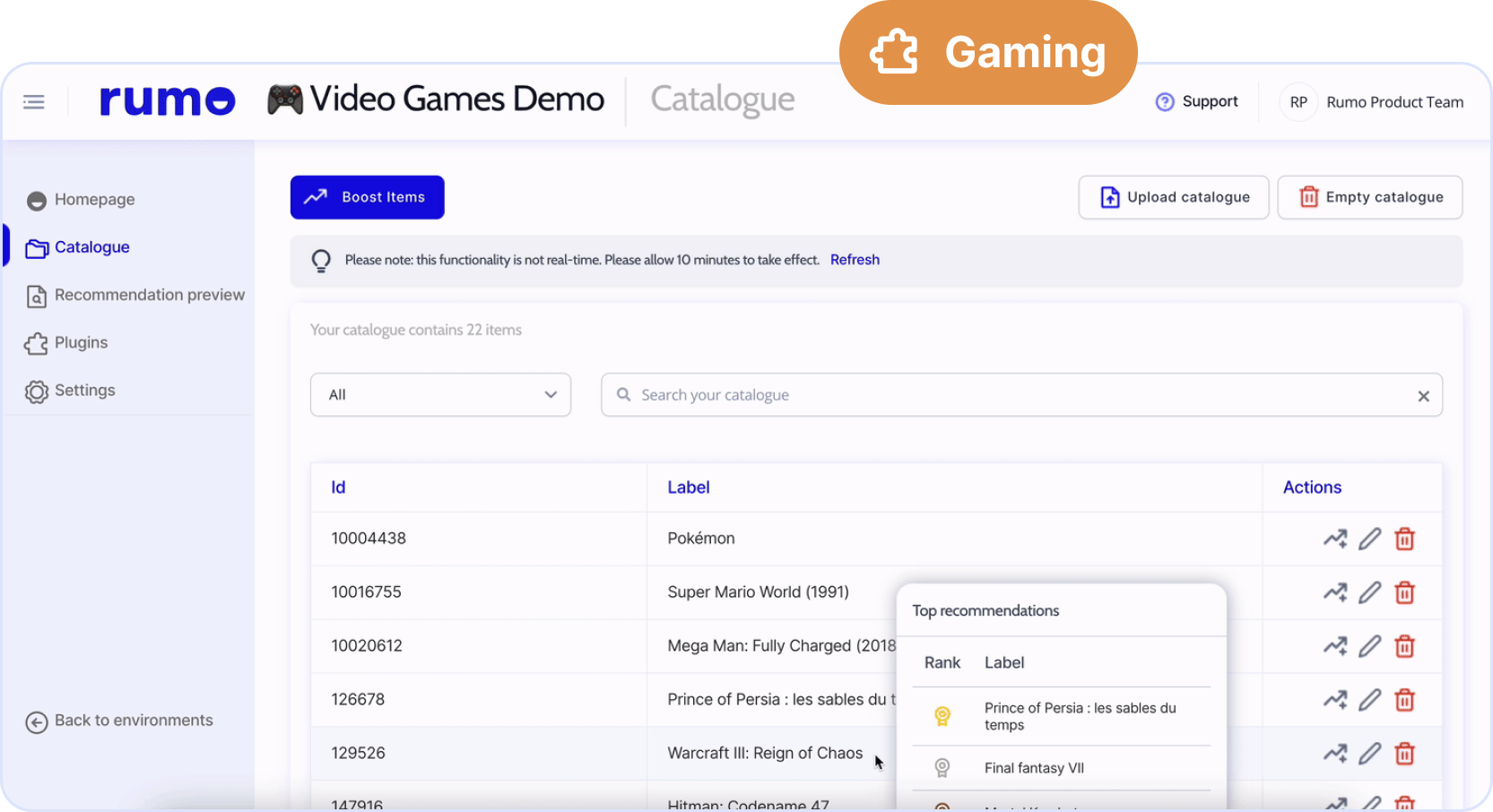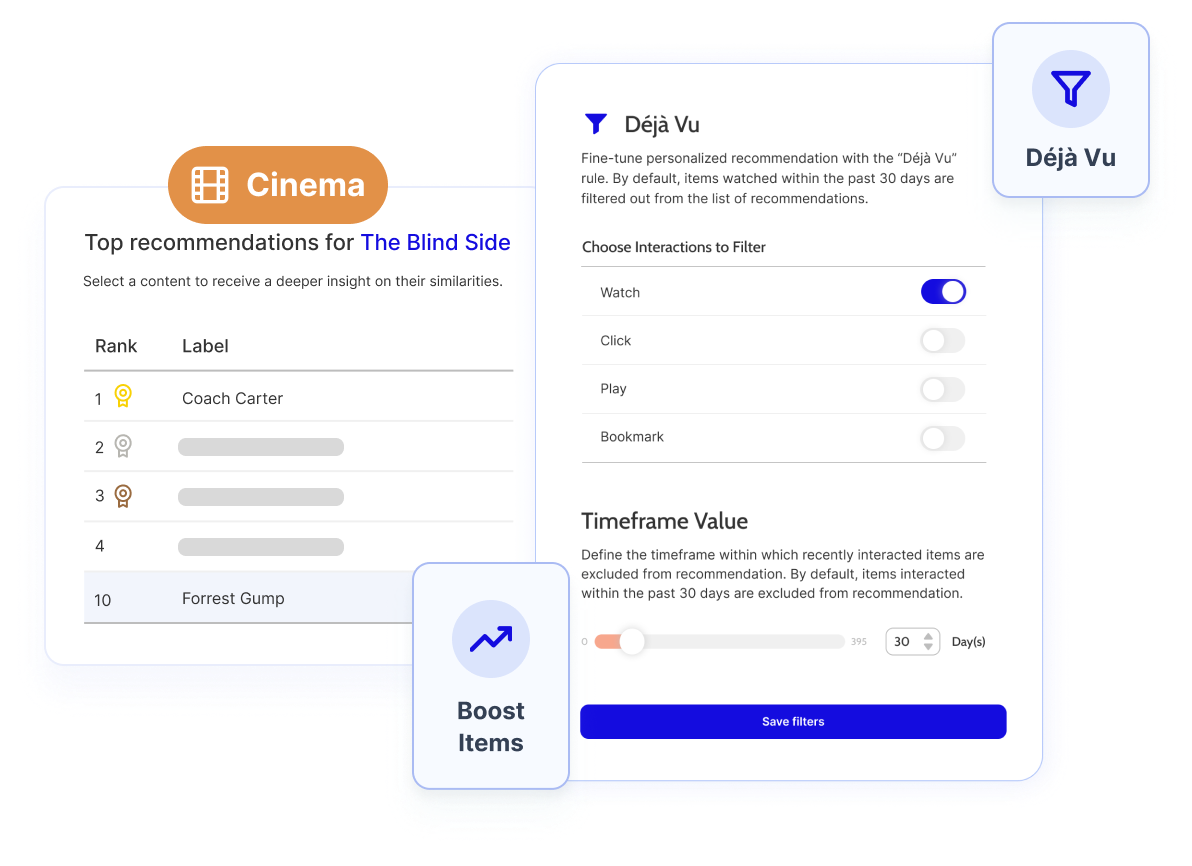 TOOLBOX
Fine-tune recommendations according to your business needs for better editorial control
Adjusting categories weight globally.
Push content you want to make sure gets seen.
Filtering out "Déjà vu" items that users already interacted with at will.
ANALYTICS
Get metrics you can leverage
Understand your users behaviour and preferences. 
Anticipate trends and make informed decisions thanks to useful KPIs.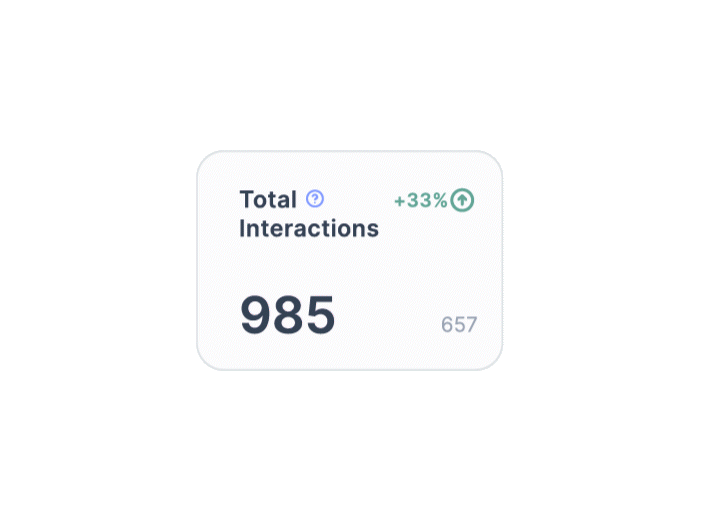 Any further questions?
Either check out our FAQ or feel free to contact our team, we'll gladly answer any questions you might have.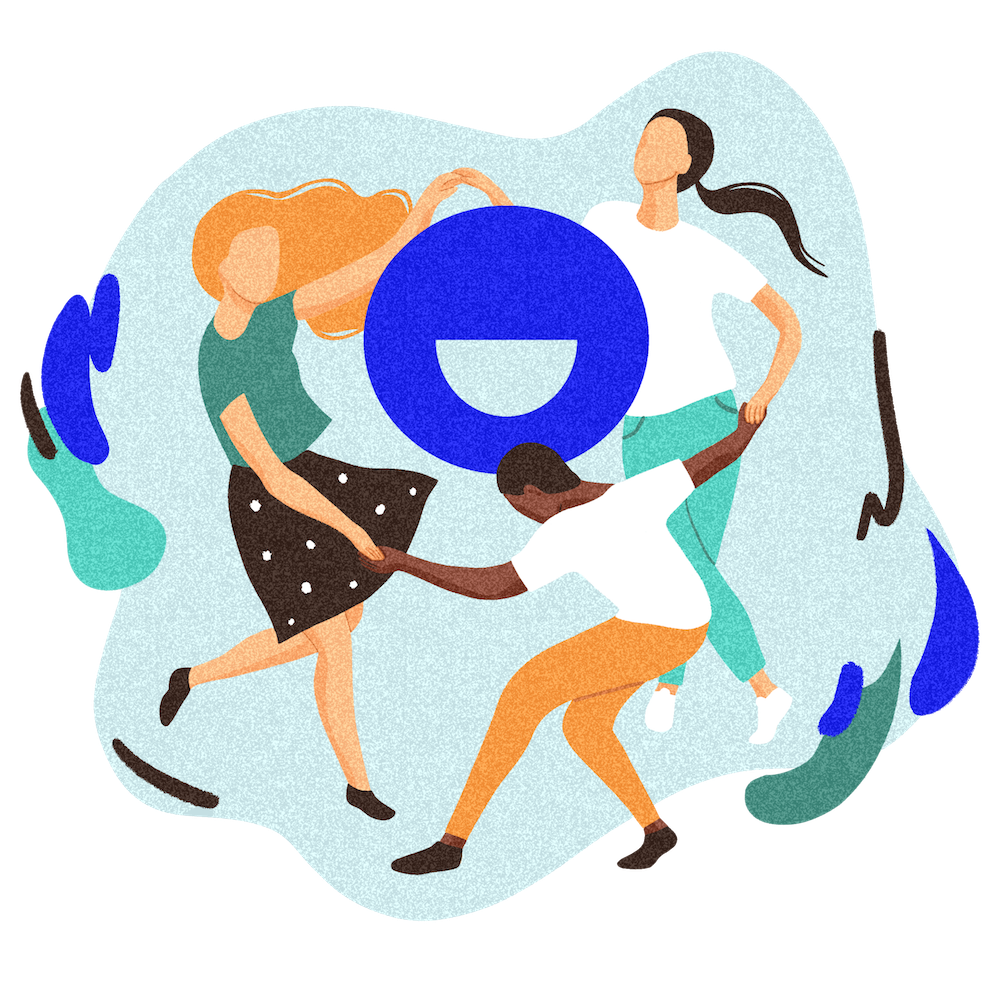 Frequently Asked Questions
Are you doing the metadata enrichment? Who does ?
We provide two alternatives :
Rumo offers the possibility to add plug-ins such as Gracenote's for example. It provides metadata directly to your catalog.

Homemade enrichment done by our editorial team from Spideo. However, it must be films or videos, as this is their field of activity.
Can Rumo work with any type of content?
As long as it's possible for you to create metadata for your content, Rumo can operate with it.
How does Rumo help me understand my users?
Rumo provides this information through two tools:
Analytics, which displays data on user interactions.

The USF (

User Semantic Profile

), which is a tool for visualizing user tastes.
On what personalized recommendations are based?
Personalized recommendations are based on the semantic profile. It is computed from all user interactions with your catalog.